Home Essay Contest 2015 Missouri
This year ASHG received submissions from students in 37 states and 16 foreign countries, including Turkey, Taiwan, Macadonia, and Ghana. Asking students to focus on the evolving definition of a gene engaged them in deeper thinking about our current understanding of the human genome and the future of genetics. Many thoughtful and well-written essays were submitted. We would also like to thank the more than 500 genetics experts from the ASHG membership who participated in judging the essays.
Congratulations to the 2015 winners and thank you all for participating. Happy DNA Day!
2015 Essay Question
In 1969, Jonathan Beckwith, James Shapiro, and Lawrence Eron isolated the first gene, the Lac Z gene from E.coli. At that time, genes were thought to be discrete, contiguous segments of DNA that coded for functional protein products. Using our current understanding of how the human genome is structured and regulated, and what products it can produce, choose a phenomenon (a molecular process, structure, or product, not a disease) that expands on the traditional definition of a gene. Explain the phenomenon and provide three specific examples of it in the human genome.
2015 Contest Winners:
Click names below to view essay excerpts.
David Yang

Grade 11 ($1,000)

Teacher:

Judith Pinto

Bergen County Academies

Hackensack, NJ

Sagan Ghim

Grade 10 ($600)

Teachers:

Tammy Martin & Richard Rosenbaum


OHSU PSI Program; Wilson High School

Portland, OR

Brian Lue

Grade 12 ($400)

Teacher:

Martina Davies

The John Cooper School

The Woodlands, TX

Jacob Mueller

Grade 12 ($400)

Teacher:

Jessica Graham


McNary High School

Keizer, OR

---

Daria Beatini

Bergen County Academies
Hackensack, NJ
Teacher: Judith Pinto




Jennifer Chen
Winston Churchill High School

Potomac, MD

Teacher: Anat Schwartz

Arthur Dennis
Bergen County Academies

Hackensack, NJ

Teacher: Judith Pinto

Alex Dent
James Madison Memorial High School

Madison, WI

Teacher: Cindy Kellor

Thomas Ferrante
Bergen County Academies

Hackensack, NJ
Teacher: Judith Pinto

Isabella Li

East Chapel Hill High School
Chapel Hill, NC
Teacher: Patricia Berge

Rick Li
Naperville Central High School

Naperville, IL

Teacher: Nicholas DiGiovanni

Sarah Link
Eureka High School

Eureka, MO

Teacher: Lindsay Mueller

Paul Slaughter

James Madison Memorial High School
Madison, WI
Teacher: Cindy Kellor


Dennis Yatunin
Stuyvesant High School

New York, NY

Teacher: Maria Nedwidek-Moore
---
View States & Countries Represented in a full screen map
---
About the Contest
The contest aims to challenge students to examine, question, and reflect on important ideas and issues related to human genetics. Competitive essays are expected to convey substantive, well-reasoned, and evidence-based arguments that demonstrate deep understanding.

Essays are evaluated through three rounds of judging, and every essay is read by a minimum of three judges. Top-scoring essays have typically been scored by a dozen or more judges.

Questions/Comments: Contact dnaday@ashg.org

ROBERT J. STUCKEY ESSAY CONTEST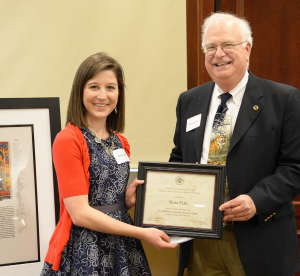 The late Robert J. Stuckey was a member of the 1963 junior class of Farmington High School. Robert had planned to attend college. He was vitally interested in current events and enjoyed reading. He had a natural facility for architectural drawing and was also interested in music. Like most young men, Rober was interested in sports, particularly wrestling. This annual contest is presented in memory of Robert.
Contest Rules:

The contest is open to Missouri High School students (in the 9th through the 12th grades), and only one entry will be accepted from each school. Home-schooled students living in Missouri are also eligible to apply. Each school is to choose the essay to be submitted. Essays should not have been submitted to any previous contest or have been previously published. Common topics for essays are literary analyses, accounts of personal experiences and fictional short stories. Essays which review a single book are not acceptable.
Criteria for Judging:

Contest judges will be comprised of members of the Friends of the Libraries.
Entries will be judged on the basis of:
Originality of thought
Content
Skill in organizing and presenting ideas and in marshaling evidence
Grammar, spelling and composition
How to Apply:

Each essay should have a title and be between 1,200 and 1,500 words in length. Essays should be typed,
double-spaced on one side of paper. Initials of the student should be in the upper right hand corner of
each page. A 3" x 5" card with student's name, gender, address, telephone number, name of school,
school address and teacher's full name should be clipped to the upper left corner of the manuscript.
Essays become the property of the Friends of the University of Missouri Libraries upon receipt.
Deadline:
All entries must be received by email or postmarked by January 31, 2018.
Entries should be sent to:
Sheila Voss
104 Ellis Library
University of Missouri
Columbia, MO 65201-5149
vosss@missouri.edu
Prizes:

First-place prize is $1,500
Second-place prize is $750
Teachers of the first and second-place winners also receive monetary prizes of $250 each
Contact Information:

If you have any questions about this contest, please contact
Sheila Voss at vosss@missouri.edu or at 573-882-9168.
Archive of Previous Winning Stuckey Essays